How To Manage Udhaar Easily With Oscar Lite
Many small businesses rely on a credit system in order to keep their setups up and running. While such a Khata system does help keep customers committed to a business and keeps their relationship with the business strong, it can become hard to handle. Small setups like kiryana stores often have to rely on paper journals to record and keep track of all the customers that have Udhaar. Not only is this tedious and slow, but is also extremely unreliable – the moment you lose your journal, you'll only be met by a wave of angry customers.
One way to avoid that is by choosing an Udhaar System, and Oscar Lite is a great option. The Udhaar app is completely free, and makes giving, paying, recording and keeping track of Udhaar really easy.
We will touch on two major components of the app's Udhaar System:


Giving Udhaar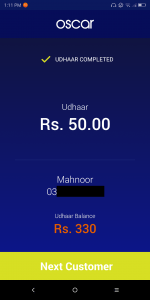 Giving Udhaar is no longer a task of tiring mathematics and writing names on scraps of paper. With this app, the task becomes automated and easy!
On the home screen, click on "Udhaar".

Add the amount you want to give as Udhaar, and click on "Give Udhaar".

You will then be led to your Customer Phonebook. Here, you can either pick a customer who you already have saved, or add a new customer by clicking on the upper right corner.

And then you're done!
Paying Udhaar
When it comes to paying Udhaar, you don't have to rely on age-old techniques of pen, paper and the calculator. Now you have this app to handle it all in four simple steps: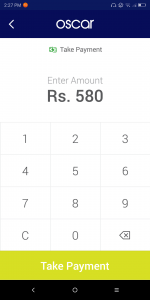 Once you're on the home screen, go to "Customers"

Pick the customer who wants to pay off their Udhaar

You'll be led to a screen where you'll see your customer's details and Udhaar history. On the top, click on the "Pay Now" button

Add the total amount your customer wants to pay, and then click "Take Payment" – and you're done!
You can now manage Udhaar this easily with Oscar Lite, so download it now, and see the difference yourself. If you feel like there's something missing, feel free to share your feedback with us – we would love to make your experience worthwhile and valuable. With this app, we hope to give all store owners the power to optimize their work functions and set themselves on the route to success.