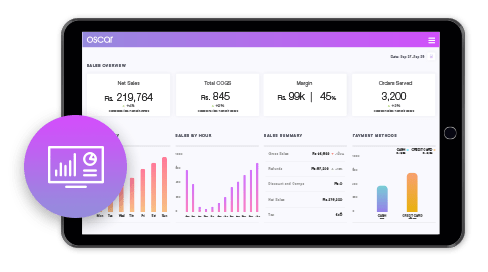 It's the Master of all Trades
Inventory is the backbone of your business. Therefore, Oscar has flawlessly
integrated all the benefits of good inventory management within its Point of
Sale (POS) system. Sell in bulk or individually – and track product performance
directly through Oscar's user-friendly dashboard. Gain insights on your best
selling products, and make profitable business moves.
Reduced manual processes
Real-time inventory updates
Track & sell popular products
Avoid tedious inventory recounts

Sync sales with stock
Maintain accurate stock levels through automatic updates – even while you're doing sales.

Ensure Customer Happiness
Give your customers a memorable experience. Use Oscar's CRM System to stock products you know the people will love.

Effortless Organization
Track and report items that are dusty, damaged or that you no longer need in your inventory.
Start selling with Oscar
Set up your free demo for Oscar POS now
Good Words Good People
Oscar worked perfectly for our mart operation across multiple Shell Select stores. We needed POS software that would provide visibility into operations, and help us manage multiple locations. The depth of analytics and insights provided by Oscar's dashboard and mobile app are unparalleled to anything else available in Pakistan.

Director - Panda Retail

Oscar's provided us such flexibility and peace of mind that we're able to open up a second location.

COO - Alpha Retail

It's perfect for a fashion boutique like ours that needed robust capabilities on a reasonable budget. It has helped us cut down on excess inventory and improved the way we run our operations.

Owner, Riccado