How To Manage Inventory With Oscar Lite
As a business owner, you might have realized that inventory management is tough, regardless of the size of your store. In fact, small stores usually get the shorter end of the stick because they lack the resources or skills to manage their inventory well. From auditing, to recording, inventory can be hectic.
In such cases, investing in a simple Inventory System can do any small business owner wonders. And Oscar Lite is a great option – since it's free!
This POS App in Pakistan has a simple but seamless inventory management system, that lets you do two of the most important tasks: recording and auditing.


Recording Received Items
Sometimes, you might order products in bulk, but completely forget to update your inventory data manually. This only makes matters worse for you, where you have to manage current orders, as well as older ones. Fortunately, you can update your inventory in real-time with the following simple steps:
Go to "Inventory".

Click on "Receive Items"

In order to pick the product who's stock you want to update, you can do one of three things:

Scan the product's barcode and view the product.

Enter the product's barcode manually and filter out the product.

Browse through your items' list.

Add the quantity you had received, press "Submit" – and you're done!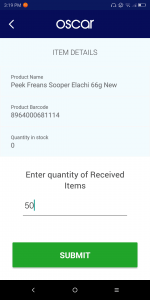 Auditing Items
Auditing in itself is a pretty daunting task, since small store owners have to do it all manually and prepare themselves for regular mistakes. Fortunately, that is no longer the case, because Oscar Lite can do the job better:
Go to "Inventory".

Click on "Do Items Audit".

Here too you can do any one of the three options: scan or type the barcode, or manually browse through your product list.

Pick the product you want to audit.

Type in the audited amount, and press "Submit"!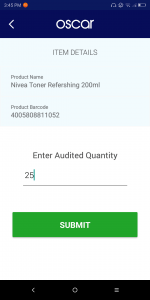 This app is made for you, so if you feel like there is something we've left out, or something that we could improve, please let us know by sharing your feedback. We want to make sure we give you the best business experience, so that your store too can excel.